Hi, my name in Chanel and welcome to Feline Corner.
I am 12 years old, part Maine Coon, part something else. Don't ask me what, my father didn't stick around.
My earliest memory is of an animal shelter where I was adopted when I was six weeks old.
I actually didn't think that I would get adopted, because I was the ugliest kitten in the shelter. I'm not kidding, I was a scruffy little thing, but I found someone who likes scruffy kittens.
Well, you can read all about my adoption and early life in a book called 'Kitten Diaries', which my mom wrote. My adoption mom. It's an www.amazon.com , costs only $8,00 and proceeds go to an animal shelter.
But enough of me, let me introduce you to my brothers and sister.
This is Charlie.
Charlie is 14 years old and a big log of a cat. He gets along with anybody and everybody and wouldn't hurt a fly. He spends most of his time napping, but don't get me wrong, there's still life in the old geezer.
Next up, Charlotte
Next, Mickey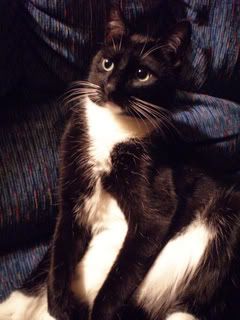 Mickey is 4 years old and hails from Belgium. Mom went over there three years ago for the funeral of her mother and came back with a cat. Mickey quickly adjusted and now he's one of us. He's the talker of the family. I'm not kidding, he makes all kinds of weird noises and when someone says something to him, he answers.
Finally, there's Gabriel.
Gabriel, or as I call him 'the terrorist', will soon be 3 years old. Honestly that cat is a nightmare. He has it in for me. Whenever he sees me, he gets that weird look in his eyes and he flattens his ears. Sometimes all he does is looking, but sometimes he jumps on me. I don't know what that cats' problem is.
So there you have it. That my family. I hope you will follow me because lots of things happen around here and I will be introducing some of my friends. Stories, photos, videos, you'll all find it here at Feline Corner.